I have to admit I have been in a slump lately. I reached my goal weight and now find myself getting too comfortable and up 10 pounds! I have been going up and down these last 10 pounds for the past 2-3 months and I need to get over this. It has taken forever to reach where I am so I don't know why recently I seem to lack motivation to keep these last 10 off. I take that back. I know part of the reason is because I have a killer sweet tooth. Yes, killer as in it kills any diet or healthy eating around! I can eat a meal made of chocolates, cookies, brownies, cake and then still want dessert! (Come on...a little ice cream is sometimes needed after a great meal.) Obviously, that is a huge reason why I was overweight to begin with. The other reason is I just love good food! I have a good grasp on portion control now although that took me a year to figure out and get acclimated to. Now I have to master my sweet tooth. I have tried low-calorie options, but honestly it makes me want the real thing even more. I am now considering going cold turkey although I twitch just thinking about it. I hate every minute of this decision, but I know it will be the best for me.
This past week has been glorious with a cabinet full of Easter candy. Anyone who loves chocolate knows Easter candy blows Halloween and Valentine's Day candy out of the water! Bring on the Cadbury eggs! I'm salivating just at the thought..... Anyway, recently a friend,
Basilmomma
posted
"Rebirth, Renewal"
and it made me think of things I want to do in life that I can change. She writes how spring time is one of the best times for us to reevaluate our life and what we want to do with it. This whole deal with my sweet tooth seems silly, but for some reason it is one of the hardest to overcome. So, after reading her post, I decided this is a perfect time for a perfect breakup! Of course I had my "last hurrah" yesterday with a Reese's bunny, some Nutella, and 2 brownies at lunch. I kept it low-key since Thursday I ate even more chocolate candy. (I told you I have a killer sweet tooth, didn't I?) So, today I am twitching and writing sugar-free. I have decided to permanently breakup with processed sugar with scheduled visitations. (It would be totally unrealistic to think I won't eat anymore sweets ever! And yes, I could eat that whole plate below in a day...easy.) Here is my breakup letter: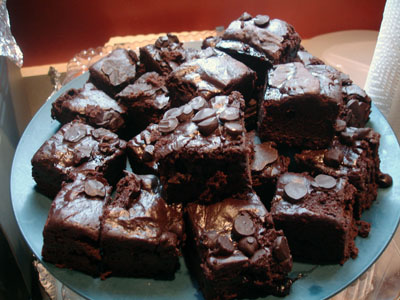 I have loved you more than you'll ever know, but damn it you like to cuddle too much on my hips and stomach! You have been really sweet these past years, but this time I have had enough. We are done! I have to admit, it's YOU not me this time. You have not helped me with my recent lifestyle change. You are unwelcome from now on. I do have to say we can still be occasional friends with benefits, but I'm not exclusive anymore. Vegetables and fruits have been treating me right. They fill me up, make me stronger, and help me stay fit. So long for now my old friend! Maybe we can hookup for a quickie on my birthday in August. Till then, hit the road and don't you come back no more.
Tip of the blog: Check out Basilmomma's post and reevaluate something you can change or go for now. Springtime is a great time to choose a goal and go for it!